Alec Darklighter
Biographical Information
Homeworld:

Avani

Birth:

2000 BBY

Death:

1900 BBY

Physical Description
Species:

Human

Gender:

Male

Height:

5'11"

Weight:

171 lbs(250 lbs with armor)

Hair:

Unknown (thought to be black)

Eyes:

Unknown

Cybernetics:

Eye Implants
Brain Transmitter

Personal Information
Allies:

Mercenary Alliance

Enemies:

Republic
Sith

Preferred Weapon:
Chronology & Political Information
Profession:

Mercenary

Era(s):

Sith War

Affiliation:

Mercenary

Personal Ship:

Soirv

[ Source ]
Alec Darklighter is a mercenary during the Galactic Sith War. He fought for both sides, but did his best to remain neutral.
Characterisics
Edit
He was a ruthless killer, mainly attacking the prey when they were asleep, or unprotected. But when he was hired to be in a battle, he would walk away soaked in the enemies blood. He carried a vibroblade, but prefered a blaster rifle, as he was a marksman in his homeworld's militia, before it was annexed by the Republic. He then moved and became a mercenary.
Early life
Edit
He was born to happily married couple, but they were killed in a small incursion between republic forces and Revan Forces. He never forgave either. He then trained to become a soldier that one day he can have his revenge on those who hurt him.
Mercenary
Edit
He became a mercenary and set out to become the best. His homeworld had the best trained militia in the galaxy. Soldiers were so well trained that governments would pay high prices to send their special forces to be trained. As his training goes, he was considered a XF(Assault Marksman) Meaning that he could be a sniper/marksman and as assault soldier. He could use anything from a Sniper Rifle to a heavy turbolaser. He then got his first prey, a Sith Commander who was patrolling the Sith World of Xiost. He killed the entire platoon with the commander, earning him a high price. The price was so high that the Sith Lord dispatched Sith Assassin squadrons after him, but he killed them. He earned the nickname of "Do'rak" in his language meaning Demon. Any bounty hunter that went after him died. His best exploit was when he assassinated the current Dark Lord of the Sith Lord Revan. Killed him in his sleep due to Alec being feather footed, no one not even a jedi could hear his footsteps. His armor had anti-force jamming sensors modules which blocked any force sensitive being from sensing him.
He died when his son accidentally shot his father while recieving training.
Equipment
Edit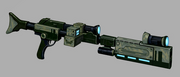 Alec's famous MD-1 Blaster Rifle was equipped with an expensive scope that could allow him to kill a target 17 kilometers away. But this weapons claim to fame is that its the only one of its kind, as it was a prototype when Alec stole it from Xaxi Industries.